Menlo College : la nouvelle université partenaire du CEFAM
Idéalement située sur la baie de San Francisco en Californie du Nord, Menlo College est au coeur de la Silicon Valley et donc des entreprises les plus innovantes du monde : GoPro, Google, Facebook, Apple, PwC…
L'université a été classée parmi l'une des meilleures universités pour étudier le business en Amérique. Des étudiants du monde entier viennent étudier sur le campus réputé pour être accueillant, inclusif et solidaire.
Chiffres clés
+ de 40
associations étudiantes
+ de 500
entreprises partenaires dans la Silicon Valley
90 %
des étudiants bénéficient d'une bourse
$34000
d'aide financière moyenne
25 %
d'étudiants internationaux
50 %
des étudiants en stages reçoivent une proposition d'embauche
90 %
des diplômés sont employés en – de 6 mois
Découvrez l'université en images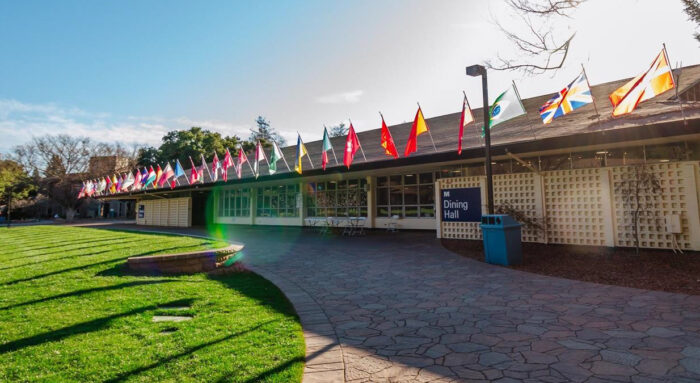 Classements
Depuis 11 ans, Menlo College se classe parmi les meilleurs universités de l'Ouest des États-Unis, selon The Princeton Review. Cette reconnaissance n'est accordée qu'à 12 % de tous les collèges et universités des États-Unis.
7ème place

au classement des universités les plus diversifiés d'Amérique par

Niche

.
Classée à la 1ère place par Zippia sur la liste des meilleures universités Californiennes en ce qui concerne les perspectives d'emploi après l'obtention du diplôme.
Menlo College a reçu le prix de l'Expérience Professionnelle et du Programme de Stage Exceptionnels des Universités par l'association « Internship and Work Experience » de la Californie.
Menlo College a reçu une subvention de $1,8 million du ministère de l'Éducation des États-Unis pour reconnaître et renforcer ses programmes de réussite scolaire.
Reconnaissance Business School : accréditée AACSB, une distinction obtenue par moins de 5 % des écoles de commerce du monde.
Spécialisations
En plus d'être reconnue comme l'une des meilleures universités de la Californie par diverses revues (Money Magazine, Grad Reports), Menlo College est réputée pour ses formations à la pointe des attentes des entreprises du 21ème siècle. 
Les programmes proposés par l'université sont les suivants :
Accounting
Business Analytics
Entrepreneurship
Finance
Human Resource Management
Marketing
International Management
Real Estate
Sports Management
Localisation