Pace University : partenaire du CEFAM
Fondée en 1906, et située en plein cœur de Manhattan, à deux pas du quartier financier, Pace University se distingue par ses liens avec la communauté professionnelle de New York. Le corps professoral est constitué de professionnels de haut niveau.
La Lubin School of Business de Pace University a été classée dans les 20 meilleurs des programmes « Undergraduate » par U.S. News & World Report. Par ailleurs, Pace University a été cité dans les 100 meilleures universités américaines qui développent des programmes d'entreprenariat par le magazine « Entrepreneur« .
En 2013, Pace University est également dans le classement de la Princeton Review.
Chiffres clés
+100
clubs et organisations
89%
des diplômés de 2016 sont en poste ou continuent leur formation
$16500 à $19000
de bourses par an
Découvrez l'université en images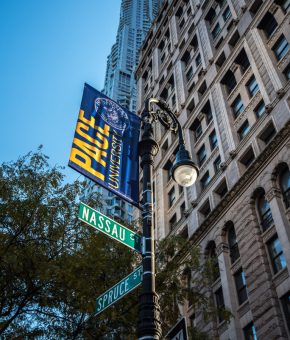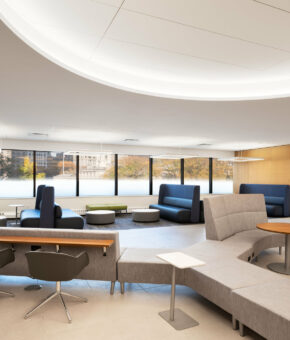 Classement
110ème position en 2021 dans le classement des meilleures business school
Classée 5ème meilleur BBA en Entertainment Management au niveau national
Meilleur Programme en Droit Environnemental
Le programme du 1er cycle de business est classé dans le 1er tiers sur le plan national par US News & World Report
PayScale place Pace dans les 12% des universités qui permettent le meilleur retour sur investissement par rapport aux frais de scolarité
La Lubin Business School de Pace a été primée 3 fois dans le Top des Business Schools par Eduniversal, organisme qui récence les meilleurs programmes de business dans le monde
Les programmes de comptabilité de la Lubin Business School ont été classés parmi le Top 50 par The Public Accounting Report
Reconnaissances business school : accréditée AACSB pour ses programmes de Business et de Comptabilité.
Spécificité
Pace University est une université privée, composée de plusieurs campus, située dans l'État de New York, et dont l'un des campus est situé à Manhattan, à New York.
L'université a été créée par deux frères, Homer S. et Charles A. Pace, en 1906. Le projet initial des deux frères était de créer une école de commerce mixte.
L'université est surtout renommée pour sa Law School, (école de droit), qui a reçu une distinction dans le US News & World Report qui recense les meilleures universités du pays dans différents domaines.
De même, la Lubin School of Business, école de commerce, a été primée, à la fois pour son Bachelor's Degree et son MBA.
Focus spécialité Gestion des Arts et Spectacles.
Durant leur cursus, les étudiants ont l'opportunité de choisir parmi de nombreuses spécialités telle que Gestion des Arts et Spectacles. Ils auront la chance d'assister à des spectacles à Broadway, visiter les sièges des entreprises de divertissement et rencontrer les dirigeants des organisations artistiques. L'université prépare à analyser et à réagir en tant que manager, aux facteurs qui façonnent l'industrie.
Quelques conférenciers : Jennifer Aniston, Jim Carrey, George Clooney, Bradley Cooper, Colin Firth, Al Pacino, James Franco, Brad Pitt, and members of the casts of Glee, Mad Men, and Modern Family…
Insertion professionnelle
À la sortie de la Business School de Pace University, la moyenne des salaires pour un diplômé en Bachelor est de $49.722 annuel et de $63.958 annuel pour un diplômé d'un programme MBA. On les retrouve essentiellement dans les domaines de la finance, la comptabilité, le consulting, le marketing, la communication…
LCL, New Access, Bloomberg, Conseil Regional D'Île De France, CIC, Dentsu, Aegis Network, Michael Page International, Moêt & Chandon, Dom Pérignon et Mercier, Blackrock, Morgan Stanley, Colgate Palmolive, London Chamber Of Commerce, Alstom, Jaybird Communications, Dell, Pwc, Asset Tv, Michael Kors sont des entreprises très présentes dans le recrutement des diplômés de Pace University.
Localisation
array(24) { [« ID »]=> int(11513) [« id »]=> int(11513) [« title »]=> string(9) « carte-up3 » [« filename »]=> string(13) « carte-up3.jpg » [« filesize »]=> int(129808) [« url »]=> string(61) « https://www.cefam.fr/wp-content/uploads/2022/05/carte-up3.jpg » [« link »]=> string(31) « https://www.cefam.fr/carte-up3/ » [« alt »]=> string(0) «  » [« author »]=> string(1) « 1 » [« description »]=> string(0) «  » [« caption »]=> string(0) «  » [« name »]=> string(9) « carte-up3 » [« status »]=> string(7) « inherit » [« uploaded_to »]=> int(0) [« date »]=> string(19) « 2022-05-20 11:04:29 » [« modified »]=> string(19) « 2022-05-20 11:04:29 » [« menu_order »]=> int(0) [« mime_type »]=> string(10) « image/jpeg » [« type »]=> string(5) « image » [« subtype »]=> string(4) « jpeg » [« icon »]=> string(57) « https://www.cefam.fr/wp-includes/images/media/default.png » [« width »]=> int(677) [« height »]=> int(677) [« sizes »]=> array(39) { [« thumbnail »]=> string(69) « https://www.cefam.fr/wp-content/uploads/2022/05/carte-up3-150×150.jpg » [« thumbnail-width »]=> int(150) [« thumbnail-height »]=> int(150) [« medium »]=> string(69) « https://www.cefam.fr/wp-content/uploads/2022/05/carte-up3-290×340.jpg » [« medium-width »]=> int(256) [« medium-height »]=> int(300) [« medium_large »]=> string(61) « https://www.cefam.fr/wp-content/uploads/2022/05/carte-up3.jpg » [« medium_large-width »]=> int(677) [« medium_large-height »]=> int(677) [« large »]=> string(61) « https://www.cefam.fr/wp-content/uploads/2022/05/carte-up3.jpg » [« large-width »]=> int(677) [« large-height »]=> int(677) [« 1536×1536 »]=> string(61) « https://www.cefam.fr/wp-content/uploads/2022/05/carte-up3.jpg » [« 1536×1536-width »]=> int(677) [« 1536×1536-height »]=> int(677) [« 2048×2048 »]=> string(61) « https://www.cefam.fr/wp-content/uploads/2022/05/carte-up3.jpg » [« 2048×2048-width »]=> int(677) [« 2048×2048-height »]=> int(677) [« background »]=> string(61) « https://www.cefam.fr/wp-content/uploads/2022/05/carte-up3.jpg » [« background-width »]=> int(677) [« background-height »]=> int(677) [« slider-interne »]=> string(69) « https://www.cefam.fr/wp-content/uploads/2022/05/carte-up3-677×450.jpg » [« slider-interne-width »]=> int(677) [« slider-interne-height »]=> int(450) [« clients »]=> string(69) « https://www.cefam.fr/wp-content/uploads/2022/05/carte-up3-180×180.jpg » [« clients-width »]=> int(180) [« clients-height »]=> int(180) [« small-cropped »]=> string(67) « https://www.cefam.fr/wp-content/uploads/2022/05/carte-up3-80×80.jpg » [« small-cropped-width »]=> int(80) [« small-cropped-height »]=> int(80) [« references »]=> string(69) « https://www.cefam.fr/wp-content/uploads/2022/05/carte-up3-395×500.jpg » [« references-width »]=> int(395) [« references-height »]=> int(500) [« payment-image »]=> string(69) « https://www.cefam.fr/wp-content/uploads/2022/05/carte-up3-300×677.jpg » [« payment-image-width »]=> int(300) [« payment-image-height »]=> int(677) [« sendpress-max »]=> string(61) « https://www.cefam.fr/wp-content/uploads/2022/05/carte-up3.jpg » [« sendpress-max-width »]=> int(600) [« sendpress-max-height »]=> int(600) } }

Pace University

array(24) { [« ID »]=> int(11513) [« id »]=> int(11513) [« title »]=> string(9) « carte-up3 » [« filename »]=> string(13) « carte-up3.jpg » [« filesize »]=> int(129808) [« url »]=> string(61) « https://www.cefam.fr/wp-content/uploads/2022/05/carte-up3.jpg » [« link »]=> string(31) « https://www.cefam.fr/carte-up3/ » [« alt »]=> string(0) «  » [« author »]=> string(1) « 1 » [« description »]=> string(0) «  » [« caption »]=> string(0) «  » [« name »]=> string(9) « carte-up3 » [« status »]=> string(7) « inherit » [« uploaded_to »]=> int(0) [« date »]=> string(19) « 2022-05-20 11:04:29 » [« modified »]=> string(19) « 2022-05-20 11:04:29 » [« menu_order »]=> int(0) [« mime_type »]=> string(10) « image/jpeg » [« type »]=> string(5) « image » [« subtype »]=> string(4) « jpeg » [« icon »]=> string(57) « https://www.cefam.fr/wp-includes/images/media/default.png » [« width »]=> int(677) [« height »]=> int(677) [« sizes »]=> array(39) { [« thumbnail »]=> string(69) « https://www.cefam.fr/wp-content/uploads/2022/05/carte-up3-150×150.jpg » [« thumbnail-width »]=> int(150) [« thumbnail-height »]=> int(150) [« medium »]=> string(69) « https://www.cefam.fr/wp-content/uploads/2022/05/carte-up3-290×340.jpg » [« medium-width »]=> int(256) [« medium-height »]=> int(300) [« medium_large »]=> string(61) « https://www.cefam.fr/wp-content/uploads/2022/05/carte-up3.jpg » [« medium_large-width »]=> int(677) [« medium_large-height »]=> int(677) [« large »]=> string(61) « https://www.cefam.fr/wp-content/uploads/2022/05/carte-up3.jpg » [« large-width »]=> int(677) [« large-height »]=> int(677) [« 1536×1536 »]=> string(61) « https://www.cefam.fr/wp-content/uploads/2022/05/carte-up3.jpg » [« 1536×1536-width »]=> int(677) [« 1536×1536-height »]=> int(677) [« 2048×2048 »]=> string(61) « https://www.cefam.fr/wp-content/uploads/2022/05/carte-up3.jpg » [« 2048×2048-width »]=> int(677) [« 2048×2048-height »]=> int(677) [« background »]=> string(61) « https://www.cefam.fr/wp-content/uploads/2022/05/carte-up3.jpg » [« background-width »]=> int(677) [« background-height »]=> int(677) [« slider-interne »]=> string(69) « https://www.cefam.fr/wp-content/uploads/2022/05/carte-up3-677×450.jpg » [« slider-interne-width »]=> int(677) [« slider-interne-height »]=> int(450) [« clients »]=> string(69) « https://www.cefam.fr/wp-content/uploads/2022/05/carte-up3-180×180.jpg » [« clients-width »]=> int(180) [« clients-height »]=> int(180) [« small-cropped »]=> string(67) « https://www.cefam.fr/wp-content/uploads/2022/05/carte-up3-80×80.jpg » [« small-cropped-width »]=> int(80) [« small-cropped-height »]=> int(80) [« references »]=> string(69) « https://www.cefam.fr/wp-content/uploads/2022/05/carte-up3-395×500.jpg » [« references-width »]=> int(395) [« references-height »]=> int(500) [« payment-image »]=> string(69) « https://www.cefam.fr/wp-content/uploads/2022/05/carte-up3-300×677.jpg » [« payment-image-width »]=> int(300) [« payment-image-height »]=> int(677) [« sendpress-max »]=> string(61) « https://www.cefam.fr/wp-content/uploads/2022/05/carte-up3.jpg » [« sendpress-max-width »]=> int(600) [« sendpress-max-height »]=> int(600) } }

Pace University

array(24) { [« ID »]=> int(11513) [« id »]=> int(11513) [« title »]=> string(9) « carte-up3 » [« filename »]=> string(13) « carte-up3.jpg » [« filesize »]=> int(129808) [« url »]=> string(61) « https://www.cefam.fr/wp-content/uploads/2022/05/carte-up3.jpg » [« link »]=> string(31) « https://www.cefam.fr/carte-up3/ » [« alt »]=> string(0) «  » [« author »]=> string(1) « 1 » [« description »]=> string(0) «  » [« caption »]=> string(0) «  » [« name »]=> string(9) « carte-up3 » [« status »]=> string(7) « inherit » [« uploaded_to »]=> int(0) [« date »]=> string(19) « 2022-05-20 11:04:29 » [« modified »]=> string(19) « 2022-05-20 11:04:29 » [« menu_order »]=> int(0) [« mime_type »]=> string(10) « image/jpeg » [« type »]=> string(5) « image » [« subtype »]=> string(4) « jpeg » [« icon »]=> string(57) « https://www.cefam.fr/wp-includes/images/media/default.png » [« width »]=> int(677) [« height »]=> int(677) [« sizes »]=> array(39) { [« thumbnail »]=> string(69) « https://www.cefam.fr/wp-content/uploads/2022/05/carte-up3-150×150.jpg » [« thumbnail-width »]=> int(150) [« thumbnail-height »]=> int(150) [« medium »]=> string(69) « https://www.cefam.fr/wp-content/uploads/2022/05/carte-up3-290×340.jpg » [« medium-width »]=> int(256) [« medium-height »]=> int(300) [« medium_large »]=> string(61) « https://www.cefam.fr/wp-content/uploads/2022/05/carte-up3.jpg » [« medium_large-width »]=> int(677) [« medium_large-height »]=> int(677) [« large »]=> string(61) « https://www.cefam.fr/wp-content/uploads/2022/05/carte-up3.jpg » [« large-width »]=> int(677) [« large-height »]=> int(677) [« 1536×1536 »]=> string(61) « https://www.cefam.fr/wp-content/uploads/2022/05/carte-up3.jpg » [« 1536×1536-width »]=> int(677) [« 1536×1536-height »]=> int(677) [« 2048×2048 »]=> string(61) « https://www.cefam.fr/wp-content/uploads/2022/05/carte-up3.jpg » [« 2048×2048-width »]=> int(677) [« 2048×2048-height »]=> int(677) [« background »]=> string(61) « https://www.cefam.fr/wp-content/uploads/2022/05/carte-up3.jpg » [« background-width »]=> int(677) [« background-height »]=> int(677) [« slider-interne »]=> string(69) « https://www.cefam.fr/wp-content/uploads/2022/05/carte-up3-677×450.jpg » [« slider-interne-width »]=> int(677) [« slider-interne-height »]=> int(450) [« clients »]=> string(69) « https://www.cefam.fr/wp-content/uploads/2022/05/carte-up3-180×180.jpg » [« clients-width »]=> int(180) [« clients-height »]=> int(180) [« small-cropped »]=> string(67) « https://www.cefam.fr/wp-content/uploads/2022/05/carte-up3-80×80.jpg » [« small-cropped-width »]=> int(80) [« small-cropped-height »]=> int(80) [« references »]=> string(69) « https://www.cefam.fr/wp-content/uploads/2022/05/carte-up3-395×500.jpg » [« references-width »]=> int(395) [« references-height »]=> int(500) [« payment-image »]=> string(69) « https://www.cefam.fr/wp-content/uploads/2022/05/carte-up3-300×677.jpg » [« payment-image-width »]=> int(300) [« payment-image-height »]=> int(677) [« sendpress-max »]=> string(61) « https://www.cefam.fr/wp-content/uploads/2022/05/carte-up3.jpg » [« sendpress-max-width »]=> int(600) [« sendpress-max-height »]=> int(600) } }

Pace University

array(24) { [« ID »]=> int(11513) [« id »]=> int(11513) [« title »]=> string(9) « carte-up3 » [« filename »]=> string(13) « carte-up3.jpg » [« filesize »]=> int(129808) [« url »]=> string(61) « https://www.cefam.fr/wp-content/uploads/2022/05/carte-up3.jpg » [« link »]=> string(31) « https://www.cefam.fr/carte-up3/ » [« alt »]=> string(0) «  » [« author »]=> string(1) « 1 » [« description »]=> string(0) «  » [« caption »]=> string(0) «  » [« name »]=> string(9) « carte-up3 » [« status »]=> string(7) « inherit » [« uploaded_to »]=> int(0) [« date »]=> string(19) « 2022-05-20 11:04:29 » [« modified »]=> string(19) « 2022-05-20 11:04:29 » [« menu_order »]=> int(0) [« mime_type »]=> string(10) « image/jpeg » [« type »]=> string(5) « image » [« subtype »]=> string(4) « jpeg » [« icon »]=> string(57) « https://www.cefam.fr/wp-includes/images/media/default.png » [« width »]=> int(677) [« height »]=> int(677) [« sizes »]=> array(39) { [« thumbnail »]=> string(69) « https://www.cefam.fr/wp-content/uploads/2022/05/carte-up3-150×150.jpg » [« thumbnail-width »]=> int(150) [« thumbnail-height »]=> int(150) [« medium »]=> string(69) « https://www.cefam.fr/wp-content/uploads/2022/05/carte-up3-290×340.jpg » [« medium-width »]=> int(256) [« medium-height »]=> int(300) [« medium_large »]=> string(61) « https://www.cefam.fr/wp-content/uploads/2022/05/carte-up3.jpg » [« medium_large-width »]=> int(677) [« medium_large-height »]=> int(677) [« large »]=> string(61) « https://www.cefam.fr/wp-content/uploads/2022/05/carte-up3.jpg » [« large-width »]=> int(677) [« large-height »]=> int(677) [« 1536×1536 »]=> string(61) « https://www.cefam.fr/wp-content/uploads/2022/05/carte-up3.jpg » [« 1536×1536-width »]=> int(677) [« 1536×1536-height »]=> int(677) [« 2048×2048 »]=> string(61) « https://www.cefam.fr/wp-content/uploads/2022/05/carte-up3.jpg » [« 2048×2048-width »]=> int(677) [« 2048×2048-height »]=> int(677) [« background »]=> string(61) « https://www.cefam.fr/wp-content/uploads/2022/05/carte-up3.jpg » [« background-width »]=> int(677) [« background-height »]=> int(677) [« slider-interne »]=> string(69) « https://www.cefam.fr/wp-content/uploads/2022/05/carte-up3-677×450.jpg » [« slider-interne-width »]=> int(677) [« slider-interne-height »]=> int(450) [« clients »]=> string(69) « https://www.cefam.fr/wp-content/uploads/2022/05/carte-up3-180×180.jpg » [« clients-width »]=> int(180) [« clients-height »]=> int(180) [« small-cropped »]=> string(67) « https://www.cefam.fr/wp-content/uploads/2022/05/carte-up3-80×80.jpg » [« small-cropped-width »]=> int(80) [« small-cropped-height »]=> int(80) [« references »]=> string(69) « https://www.cefam.fr/wp-content/uploads/2022/05/carte-up3-395×500.jpg » [« references-width »]=> int(395) [« references-height »]=> int(500) [« payment-image »]=> string(69) « https://www.cefam.fr/wp-content/uploads/2022/05/carte-up3-300×677.jpg » [« payment-image-width »]=> int(300) [« payment-image-height »]=> int(677) [« sendpress-max »]=> string(61) « https://www.cefam.fr/wp-content/uploads/2022/05/carte-up3.jpg » [« sendpress-max-width »]=> int(600) [« sendpress-max-height »]=> int(600) } }

Pace University

array(24) { [« ID »]=> int(11513) [« id »]=> int(11513) [« title »]=> string(9) « carte-up3 » [« filename »]=> string(13) « carte-up3.jpg » [« filesize »]=> int(129808) [« url »]=> string(61) « https://www.cefam.fr/wp-content/uploads/2022/05/carte-up3.jpg » [« link »]=> string(31) « https://www.cefam.fr/carte-up3/ » [« alt »]=> string(0) «  » [« author »]=> string(1) « 1 » [« description »]=> string(0) «  » [« caption »]=> string(0) «  » [« name »]=> string(9) « carte-up3 » [« status »]=> string(7) « inherit » [« uploaded_to »]=> int(0) [« date »]=> string(19) « 2022-05-20 11:04:29 » [« modified »]=> string(19) « 2022-05-20 11:04:29 » [« menu_order »]=> int(0) [« mime_type »]=> string(10) « image/jpeg » [« type »]=> string(5) « image » [« subtype »]=> string(4) « jpeg » [« icon »]=> string(57) « https://www.cefam.fr/wp-includes/images/media/default.png » [« width »]=> int(677) [« height »]=> int(677) [« sizes »]=> array(39) { [« thumbnail »]=> string(69) « https://www.cefam.fr/wp-content/uploads/2022/05/carte-up3-150×150.jpg » [« thumbnail-width »]=> int(150) [« thumbnail-height »]=> int(150) [« medium »]=> string(69) « https://www.cefam.fr/wp-content/uploads/2022/05/carte-up3-290×340.jpg » [« medium-width »]=> int(256) [« medium-height »]=> int(300) [« medium_large »]=> string(61) « https://www.cefam.fr/wp-content/uploads/2022/05/carte-up3.jpg » [« medium_large-width »]=> int(677) [« medium_large-height »]=> int(677) [« large »]=> string(61) « https://www.cefam.fr/wp-content/uploads/2022/05/carte-up3.jpg » [« large-width »]=> int(677) [« large-height »]=> int(677) [« 1536×1536 »]=> string(61) « https://www.cefam.fr/wp-content/uploads/2022/05/carte-up3.jpg » [« 1536×1536-width »]=> int(677) [« 1536×1536-height »]=> int(677) [« 2048×2048 »]=> string(61) « https://www.cefam.fr/wp-content/uploads/2022/05/carte-up3.jpg » [« 2048×2048-width »]=> int(677) [« 2048×2048-height »]=> int(677) [« background »]=> string(61) « https://www.cefam.fr/wp-content/uploads/2022/05/carte-up3.jpg » [« background-width »]=> int(677) [« background-height »]=> int(677) [« slider-interne »]=> string(69) « https://www.cefam.fr/wp-content/uploads/2022/05/carte-up3-677×450.jpg » [« slider-interne-width »]=> int(677) [« slider-interne-height »]=> int(450) [« clients »]=> string(69) « https://www.cefam.fr/wp-content/uploads/2022/05/carte-up3-180×180.jpg » [« clients-width »]=> int(180) [« clients-height »]=> int(180) [« small-cropped »]=> string(67) « https://www.cefam.fr/wp-content/uploads/2022/05/carte-up3-80×80.jpg » [« small-cropped-width »]=> int(80) [« small-cropped-height »]=> int(80) [« references »]=> string(69) « https://www.cefam.fr/wp-content/uploads/2022/05/carte-up3-395×500.jpg » [« references-width »]=> int(395) [« references-height »]=> int(500) [« payment-image »]=> string(69) « https://www.cefam.fr/wp-content/uploads/2022/05/carte-up3-300×677.jpg » [« payment-image-width »]=> int(300) [« payment-image-height »]=> int(677) [« sendpress-max »]=> string(61) « https://www.cefam.fr/wp-content/uploads/2022/05/carte-up3.jpg » [« sendpress-max-width »]=> int(600) [« sendpress-max-height »]=> int(600) } }

Pace University

array(24) { [« ID »]=> int(11513) [« id »]=> int(11513) [« title »]=> string(9) « carte-up3 » [« filename »]=> string(13) « carte-up3.jpg » [« filesize »]=> int(129808) [« url »]=> string(61) « https://www.cefam.fr/wp-content/uploads/2022/05/carte-up3.jpg » [« link »]=> string(31) « https://www.cefam.fr/carte-up3/ » [« alt »]=> string(0) «  » [« author »]=> string(1) « 1 » [« description »]=> string(0) «  » [« caption »]=> string(0) «  » [« name »]=> string(9) « carte-up3 » [« status »]=> string(7) « inherit » [« uploaded_to »]=> int(0) [« date »]=> string(19) « 2022-05-20 11:04:29 » [« modified »]=> string(19) « 2022-05-20 11:04:29 » [« menu_order »]=> int(0) [« mime_type »]=> string(10) « image/jpeg » [« type »]=> string(5) « image » [« subtype »]=> string(4) « jpeg » [« icon »]=> string(57) « https://www.cefam.fr/wp-includes/images/media/default.png » [« width »]=> int(677) [« height »]=> int(677) [« sizes »]=> array(39) { [« thumbnail »]=> string(69) « https://www.cefam.fr/wp-content/uploads/2022/05/carte-up3-150×150.jpg » [« thumbnail-width »]=> int(150) [« thumbnail-height »]=> int(150) [« medium »]=> string(69) « https://www.cefam.fr/wp-content/uploads/2022/05/carte-up3-290×340.jpg » [« medium-width »]=> int(256) [« medium-height »]=> int(300) [« medium_large »]=> string(61) « https://www.cefam.fr/wp-content/uploads/2022/05/carte-up3.jpg » [« medium_large-width »]=> int(677) [« medium_large-height »]=> int(677) [« large »]=> string(61) « https://www.cefam.fr/wp-content/uploads/2022/05/carte-up3.jpg » [« large-width »]=> int(677) [« large-height »]=> int(677) [« 1536×1536 »]=> string(61) « https://www.cefam.fr/wp-content/uploads/2022/05/carte-up3.jpg » [« 1536×1536-width »]=> int(677) [« 1536×1536-height »]=> int(677) [« 2048×2048 »]=> string(61) « https://www.cefam.fr/wp-content/uploads/2022/05/carte-up3.jpg » [« 2048×2048-width »]=> int(677) [« 2048×2048-height »]=> int(677) [« background »]=> string(61) « https://www.cefam.fr/wp-content/uploads/2022/05/carte-up3.jpg » [« background-width »]=> int(677) [« background-height »]=> int(677) [« slider-interne »]=> string(69) « https://www.cefam.fr/wp-content/uploads/2022/05/carte-up3-677×450.jpg » [« slider-interne-width »]=> int(677) [« slider-interne-height »]=> int(450) [« clients »]=> string(69) « https://www.cefam.fr/wp-content/uploads/2022/05/carte-up3-180×180.jpg » [« clients-width »]=> int(180) [« clients-height »]=> int(180) [« small-cropped »]=> string(67) « https://www.cefam.fr/wp-content/uploads/2022/05/carte-up3-80×80.jpg » [« small-cropped-width »]=> int(80) [« small-cropped-height »]=> int(80) [« references »]=> string(69) « https://www.cefam.fr/wp-content/uploads/2022/05/carte-up3-395×500.jpg » [« references-width »]=> int(395) [« references-height »]=> int(500) [« payment-image »]=> string(69) « https://www.cefam.fr/wp-content/uploads/2022/05/carte-up3-300×677.jpg » [« payment-image-width »]=> int(300) [« payment-image-height »]=> int(677) [« sendpress-max »]=> string(61) « https://www.cefam.fr/wp-content/uploads/2022/05/carte-up3.jpg » [« sendpress-max-width »]=> int(600) [« sendpress-max-height »]=> int(600) } }

Pace University

array(24) { [« ID »]=> int(11513) [« id »]=> int(11513) [« title »]=> string(9) « carte-up3 » [« filename »]=> string(13) « carte-up3.jpg » [« filesize »]=> int(129808) [« url »]=> string(61) « https://www.cefam.fr/wp-content/uploads/2022/05/carte-up3.jpg » [« link »]=> string(31) « https://www.cefam.fr/carte-up3/ » [« alt »]=> string(0) «  » [« author »]=> string(1) « 1 » [« description »]=> string(0) «  » [« caption »]=> string(0) «  » [« name »]=> string(9) « carte-up3 » [« status »]=> string(7) « inherit » [« uploaded_to »]=> int(0) [« date »]=> string(19) « 2022-05-20 11:04:29 » [« modified »]=> string(19) « 2022-05-20 11:04:29 » [« menu_order »]=> int(0) [« mime_type »]=> string(10) « image/jpeg » [« type »]=> string(5) « image » [« subtype »]=> string(4) « jpeg » [« icon »]=> string(57) « https://www.cefam.fr/wp-includes/images/media/default.png » [« width »]=> int(677) [« height »]=> int(677) [« sizes »]=> array(39) { [« thumbnail »]=> string(69) « https://www.cefam.fr/wp-content/uploads/2022/05/carte-up3-150×150.jpg » [« thumbnail-width »]=> int(150) [« thumbnail-height »]=> int(150) [« medium »]=> string(69) « https://www.cefam.fr/wp-content/uploads/2022/05/carte-up3-290×340.jpg » [« medium-width »]=> int(256) [« medium-height »]=> int(300) [« medium_large »]=> string(61) « https://www.cefam.fr/wp-content/uploads/2022/05/carte-up3.jpg » [« medium_large-width »]=> int(677) [« medium_large-height »]=> int(677) [« large »]=> string(61) « https://www.cefam.fr/wp-content/uploads/2022/05/carte-up3.jpg » [« large-width »]=> int(677) [« large-height »]=> int(677) [« 1536×1536 »]=> string(61) « https://www.cefam.fr/wp-content/uploads/2022/05/carte-up3.jpg » [« 1536×1536-width »]=> int(677) [« 1536×1536-height »]=> int(677) [« 2048×2048 »]=> string(61) « https://www.cefam.fr/wp-content/uploads/2022/05/carte-up3.jpg » [« 2048×2048-width »]=> int(677) [« 2048×2048-height »]=> int(677) [« background »]=> string(61) « https://www.cefam.fr/wp-content/uploads/2022/05/carte-up3.jpg » [« background-width »]=> int(677) [« background-height »]=> int(677) [« slider-interne »]=> string(69) « https://www.cefam.fr/wp-content/uploads/2022/05/carte-up3-677×450.jpg » [« slider-interne-width »]=> int(677) [« slider-interne-height »]=> int(450) [« clients »]=> string(69) « https://www.cefam.fr/wp-content/uploads/2022/05/carte-up3-180×180.jpg » [« clients-width »]=> int(180) [« clients-height »]=> int(180) [« small-cropped »]=> string(67) « https://www.cefam.fr/wp-content/uploads/2022/05/carte-up3-80×80.jpg » [« small-cropped-width »]=> int(80) [« small-cropped-height »]=> int(80) [« references »]=> string(69) « https://www.cefam.fr/wp-content/uploads/2022/05/carte-up3-395×500.jpg » [« references-width »]=> int(395) [« references-height »]=> int(500) [« payment-image »]=> string(69) « https://www.cefam.fr/wp-content/uploads/2022/05/carte-up3-300×677.jpg » [« payment-image-width »]=> int(300) [« payment-image-height »]=> int(677) [« sendpress-max »]=> string(61) « https://www.cefam.fr/wp-content/uploads/2022/05/carte-up3.jpg » [« sendpress-max-width »]=> int(600) [« sendpress-max-height »]=> int(600) } }

Pace University

array(24) { [« ID »]=> int(11513) [« id »]=> int(11513) [« title »]=> string(9) « carte-up3 » [« filename »]=> string(13) « carte-up3.jpg » [« filesize »]=> int(129808) [« url »]=> string(61) « https://www.cefam.fr/wp-content/uploads/2022/05/carte-up3.jpg » [« link »]=> string(31) « https://www.cefam.fr/carte-up3/ » [« alt »]=> string(0) «  » [« author »]=> string(1) « 1 » [« description »]=> string(0) «  » [« caption »]=> string(0) «  » [« name »]=> string(9) « carte-up3 » [« status »]=> string(7) « inherit » [« uploaded_to »]=> int(0) [« date »]=> string(19) « 2022-05-20 11:04:29 » [« modified »]=> string(19) « 2022-05-20 11:04:29 » [« menu_order »]=> int(0) [« mime_type »]=> string(10) « image/jpeg » [« type »]=> string(5) « image » [« subtype »]=> string(4) « jpeg » [« icon »]=> string(57) « https://www.cefam.fr/wp-includes/images/media/default.png » [« width »]=> int(677) [« height »]=> int(677) [« sizes »]=> array(39) { [« thumbnail »]=> string(69) « https://www.cefam.fr/wp-content/uploads/2022/05/carte-up3-150×150.jpg » [« thumbnail-width »]=> int(150) [« thumbnail-height »]=> int(150) [« medium »]=> string(69) « https://www.cefam.fr/wp-content/uploads/2022/05/carte-up3-290×340.jpg » [« medium-width »]=> int(256) [« medium-height »]=> int(300) [« medium_large »]=> string(61) « https://www.cefam.fr/wp-content/uploads/2022/05/carte-up3.jpg » [« medium_large-width »]=> int(677) [« medium_large-height »]=> int(677) [« large »]=> string(61) « https://www.cefam.fr/wp-content/uploads/2022/05/carte-up3.jpg » [« large-width »]=> int(677) [« large-height »]=> int(677) [« 1536×1536 »]=> string(61) « https://www.cefam.fr/wp-content/uploads/2022/05/carte-up3.jpg » [« 1536×1536-width »]=> int(677) [« 1536×1536-height »]=> int(677) [« 2048×2048 »]=> string(61) « https://www.cefam.fr/wp-content/uploads/2022/05/carte-up3.jpg » [« 2048×2048-width »]=> int(677) [« 2048×2048-height »]=> int(677) [« background »]=> string(61) « https://www.cefam.fr/wp-content/uploads/2022/05/carte-up3.jpg » [« background-width »]=> int(677) [« background-height »]=> int(677) [« slider-interne »]=> string(69) « https://www.cefam.fr/wp-content/uploads/2022/05/carte-up3-677×450.jpg » [« slider-interne-width »]=> int(677) [« slider-interne-height »]=> int(450) [« clients »]=> string(69) « https://www.cefam.fr/wp-content/uploads/2022/05/carte-up3-180×180.jpg » [« clients-width »]=> int(180) [« clients-height »]=> int(180) [« small-cropped »]=> string(67) « https://www.cefam.fr/wp-content/uploads/2022/05/carte-up3-80×80.jpg » [« small-cropped-width »]=> int(80) [« small-cropped-height »]=> int(80) [« references »]=> string(69) « https://www.cefam.fr/wp-content/uploads/2022/05/carte-up3-395×500.jpg » [« references-width »]=> int(395) [« references-height »]=> int(500) [« payment-image »]=> string(69) « https://www.cefam.fr/wp-content/uploads/2022/05/carte-up3-300×677.jpg » [« payment-image-width »]=> int(300) [« payment-image-height »]=> int(677) [« sendpress-max »]=> string(61) « https://www.cefam.fr/wp-content/uploads/2022/05/carte-up3.jpg » [« sendpress-max-width »]=> int(600) [« sendpress-max-height »]=> int(600) } }

Pace University

array(24) { [« ID »]=> int(11513) [« id »]=> int(11513) [« title »]=> string(9) « carte-up3 » [« filename »]=> string(13) « carte-up3.jpg » [« filesize »]=> int(129808) [« url »]=> string(61) « https://www.cefam.fr/wp-content/uploads/2022/05/carte-up3.jpg » [« link »]=> string(31) « https://www.cefam.fr/carte-up3/ » [« alt »]=> string(0) «  » [« author »]=> string(1) « 1 » [« description »]=> string(0) «  » [« caption »]=> string(0) «  » [« name »]=> string(9) « carte-up3 » [« status »]=> string(7) « inherit » [« uploaded_to »]=> int(0) [« date »]=> string(19) « 2022-05-20 11:04:29 » [« modified »]=> string(19) « 2022-05-20 11:04:29 » [« menu_order »]=> int(0) [« mime_type »]=> string(10) « image/jpeg » [« type »]=> string(5) « image » [« subtype »]=> string(4) « jpeg » [« icon »]=> string(57) « https://www.cefam.fr/wp-includes/images/media/default.png » [« width »]=> int(677) [« height »]=> int(677) [« sizes »]=> array(39) { [« thumbnail »]=> string(69) « https://www.cefam.fr/wp-content/uploads/2022/05/carte-up3-150×150.jpg » [« thumbnail-width »]=> int(150) [« thumbnail-height »]=> int(150) [« medium »]=> string(69) « https://www.cefam.fr/wp-content/uploads/2022/05/carte-up3-290×340.jpg » [« medium-width »]=> int(256) [« medium-height »]=> int(300) [« medium_large »]=> string(61) « https://www.cefam.fr/wp-content/uploads/2022/05/carte-up3.jpg » [« medium_large-width »]=> int(677) [« medium_large-height »]=> int(677) [« large »]=> string(61) « https://www.cefam.fr/wp-content/uploads/2022/05/carte-up3.jpg » [« large-width »]=> int(677) [« large-height »]=> int(677) [« 1536×1536 »]=> string(61) « https://www.cefam.fr/wp-content/uploads/2022/05/carte-up3.jpg » [« 1536×1536-width »]=> int(677) [« 1536×1536-height »]=> int(677) [« 2048×2048 »]=> string(61) « https://www.cefam.fr/wp-content/uploads/2022/05/carte-up3.jpg » [« 2048×2048-width »]=> int(677) [« 2048×2048-height »]=> int(677) [« background »]=> string(61) « https://www.cefam.fr/wp-content/uploads/2022/05/carte-up3.jpg » [« background-width »]=> int(677) [« background-height »]=> int(677) [« slider-interne »]=> string(69) « https://www.cefam.fr/wp-content/uploads/2022/05/carte-up3-677×450.jpg » [« slider-interne-width »]=> int(677) [« slider-interne-height »]=> int(450) [« clients »]=> string(69) « https://www.cefam.fr/wp-content/uploads/2022/05/carte-up3-180×180.jpg » [« clients-width »]=> int(180) [« clients-height »]=> int(180) [« small-cropped »]=> string(67) « https://www.cefam.fr/wp-content/uploads/2022/05/carte-up3-80×80.jpg » [« small-cropped-width »]=> int(80) [« small-cropped-height »]=> int(80) [« references »]=> string(69) « https://www.cefam.fr/wp-content/uploads/2022/05/carte-up3-395×500.jpg » [« references-width »]=> int(395) [« references-height »]=> int(500) [« payment-image »]=> string(69) « https://www.cefam.fr/wp-content/uploads/2022/05/carte-up3-300×677.jpg » [« payment-image-width »]=> int(300) [« payment-image-height »]=> int(677) [« sendpress-max »]=> string(61) « https://www.cefam.fr/wp-content/uploads/2022/05/carte-up3.jpg » [« sendpress-max-width »]=> int(600) [« sendpress-max-height »]=> int(600) } }

array(24) { [« ID »]=> int(11513) [« id »]=> int(11513) [« title »]=> string(9) « carte-up3 » [« filename »]=> string(13) « carte-up3.jpg » [« filesize »]=> int(129808) [« url »]=> string(61) « https://www.cefam.fr/wp-content/uploads/2022/05/carte-up3.jpg » [« link »]=> string(31) « https://www.cefam.fr/carte-up3/ » [« alt »]=> string(0) «  » [« author »]=> string(1) « 1 » [« description »]=> string(0) «  » [« caption »]=> string(0) «  » [« name »]=> string(9) « carte-up3 » [« status »]=> string(7) « inherit » [« uploaded_to »]=> int(0) [« date »]=> string(19) « 2022-05-20 11:04:29 » [« modified »]=> string(19) « 2022-05-20 11:04:29 » [« menu_order »]=> int(0) [« mime_type »]=> string(10) « image/jpeg » [« type »]=> string(5) « image » [« subtype »]=> string(4) « jpeg » [« icon »]=> string(57) « https://www.cefam.fr/wp-includes/images/media/default.png » [« width »]=> int(677) [« height »]=> int(677) [« sizes »]=> array(39) { [« thumbnail »]=> string(69) « https://www.cefam.fr/wp-content/uploads/2022/05/carte-up3-150×150.jpg » [« thumbnail-width »]=> int(150) [« thumbnail-height »]=> int(150) [« medium »]=> string(69) « https://www.cefam.fr/wp-content/uploads/2022/05/carte-up3-290×340.jpg » [« medium-width »]=> int(256) [« medium-height »]=> int(300) [« medium_large »]=> string(61) « https://www.cefam.fr/wp-content/uploads/2022/05/carte-up3.jpg » [« medium_large-width »]=> int(677) [« medium_large-height »]=> int(677) [« large »]=> string(61) « https://www.cefam.fr/wp-content/uploads/2022/05/carte-up3.jpg » [« large-width »]=> int(677) [« large-height »]=> int(677) [« 1536×1536 »]=> string(61) « https://www.cefam.fr/wp-content/uploads/2022/05/carte-up3.jpg » [« 1536×1536-width »]=> int(677) [« 1536×1536-height »]=> int(677) [« 2048×2048 »]=> string(61) « https://www.cefam.fr/wp-content/uploads/2022/05/carte-up3.jpg » [« 2048×2048-width »]=> int(677) [« 2048×2048-height »]=> int(677) [« background »]=> string(61) « https://www.cefam.fr/wp-content/uploads/2022/05/carte-up3.jpg » [« background-width »]=> int(677) [« background-height »]=> int(677) [« slider-interne »]=> string(69) « https://www.cefam.fr/wp-content/uploads/2022/05/carte-up3-677×450.jpg » [« slider-interne-width »]=> int(677) [« slider-interne-height »]=> int(450) [« clients »]=> string(69) « https://www.cefam.fr/wp-content/uploads/2022/05/carte-up3-180×180.jpg » [« clients-width »]=> int(180) [« clients-height »]=> int(180) [« small-cropped »]=> string(67) « https://www.cefam.fr/wp-content/uploads/2022/05/carte-up3-80×80.jpg » [« small-cropped-width »]=> int(80) [« small-cropped-height »]=> int(80) [« references »]=> string(69) « https://www.cefam.fr/wp-content/uploads/2022/05/carte-up3-395×500.jpg » [« references-width »]=> int(395) [« references-height »]=> int(500) [« payment-image »]=> string(69) « https://www.cefam.fr/wp-content/uploads/2022/05/carte-up3-300×677.jpg » [« payment-image-width »]=> int(300) [« payment-image-height »]=> int(677) [« sendpress-max »]=> string(61) « https://www.cefam.fr/wp-content/uploads/2022/05/carte-up3.jpg » [« sendpress-max-width »]=> int(600) [« sendpress-max-height »]=> int(600) } }

Pace University

array(24) { [« ID »]=> int(11513) [« id »]=> int(11513) [« title »]=> string(9) « carte-up3 » [« filename »]=> string(13) « carte-up3.jpg » [« filesize »]=> int(129808) [« url »]=> string(61) « https://www.cefam.fr/wp-content/uploads/2022/05/carte-up3.jpg » [« link »]=> string(31) « https://www.cefam.fr/carte-up3/ » [« alt »]=> string(0) «  » [« author »]=> string(1) « 1 » [« description »]=> string(0) «  » [« caption »]=> string(0) «  » [« name »]=> string(9) « carte-up3 » [« status »]=> string(7) « inherit » [« uploaded_to »]=> int(0) [« date »]=> string(19) « 2022-05-20 11:04:29 » [« modified »]=> string(19) « 2022-05-20 11:04:29 » [« menu_order »]=> int(0) [« mime_type »]=> string(10) « image/jpeg » [« type »]=> string(5) « image » [« subtype »]=> string(4) « jpeg » [« icon »]=> string(57) « https://www.cefam.fr/wp-includes/images/media/default.png » [« width »]=> int(677) [« height »]=> int(677) [« sizes »]=> array(39) { [« thumbnail »]=> string(69) « https://www.cefam.fr/wp-content/uploads/2022/05/carte-up3-150×150.jpg » [« thumbnail-width »]=> int(150) [« thumbnail-height »]=> int(150) [« medium »]=> string(69) « https://www.cefam.fr/wp-content/uploads/2022/05/carte-up3-290×340.jpg » [« medium-width »]=> int(256) [« medium-height »]=> int(300) [« medium_large »]=> string(61) « https://www.cefam.fr/wp-content/uploads/2022/05/carte-up3.jpg » [« medium_large-width »]=> int(677) [« medium_large-height »]=> int(677) [« large »]=> string(61) « https://www.cefam.fr/wp-content/uploads/2022/05/carte-up3.jpg » [« large-width »]=> int(677) [« large-height »]=> int(677) [« 1536×1536 »]=> string(61) « https://www.cefam.fr/wp-content/uploads/2022/05/carte-up3.jpg » [« 1536×1536-width »]=> int(677) [« 1536×1536-height »]=> int(677) [« 2048×2048 »]=> string(61) « https://www.cefam.fr/wp-content/uploads/2022/05/carte-up3.jpg » [« 2048×2048-width »]=> int(677) [« 2048×2048-height »]=> int(677) [« background »]=> string(61) « https://www.cefam.fr/wp-content/uploads/2022/05/carte-up3.jpg » [« background-width »]=> int(677) [« background-height »]=> int(677) [« slider-interne »]=> string(69) « https://www.cefam.fr/wp-content/uploads/2022/05/carte-up3-677×450.jpg » [« slider-interne-width »]=> int(677) [« slider-interne-height »]=> int(450) [« clients »]=> string(69) « https://www.cefam.fr/wp-content/uploads/2022/05/carte-up3-180×180.jpg » [« clients-width »]=> int(180) [« clients-height »]=> int(180) [« small-cropped »]=> string(67) « https://www.cefam.fr/wp-content/uploads/2022/05/carte-up3-80×80.jpg » [« small-cropped-width »]=> int(80) [« small-cropped-height »]=> int(80) [« references »]=> string(69) « https://www.cefam.fr/wp-content/uploads/2022/05/carte-up3-395×500.jpg » [« references-width »]=> int(395) [« references-height »]=> int(500) [« payment-image »]=> string(69) « https://www.cefam.fr/wp-content/uploads/2022/05/carte-up3-300×677.jpg » [« payment-image-width »]=> int(300) [« payment-image-height »]=> int(677) [« sendpress-max »]=> string(61) « https://www.cefam.fr/wp-content/uploads/2022/05/carte-up3.jpg » [« sendpress-max-width »]=> int(600) [« sendpress-max-height »]=> int(600) } }

Pace University