CEFAM's academic program is based on the American and Canadian models in liberal arts education. In order to earn a dual degree, students spend their first 3 years on CEFAM's campus in Lyon, and their final year in a US or final 2 years at a Canadian partner university. They then graduate with both a French and an American or Canadian degree. The French degree is the RNCP level 7 "Manager of International Organizations" and the US or Canadian degree is a Bachelor's of Business Administration in any Business major available at the partner university.
3 Years to Learn the Fundamentals
The first 3 years of the program are dedicated to developing students' knowledge in Business and general education courses, as well as professional competencies through the completion of two internships.
1 or 2 Years of Specialization
After 3 years in Lyon, CEFAM students go onto choose their major in the following year. They have 3 options:
Spend 1 year studying in the United States at one of our 6 partner universities
Spend 2 years studying in Canada at University of New Brunswick
Continue at CEFAM for their 4th year, earning the CEFAM degree in Marketing or Finance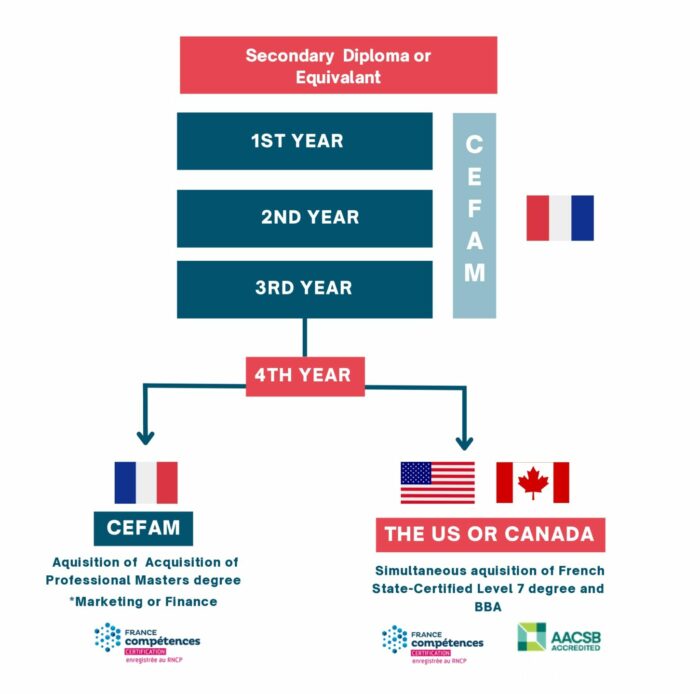 For additional information, please contact Rachel Stowe rachel.stowe@cefam.fr.
Our course catalogue
Download files