Customized study programs
With CEFAM in Lyon, France, universities can develop customized, short-term programs in any field of study, offering them the chance to build a Faculty-Led or Faculty-Led blended experience. Partners can integrate seminars, lectures, corporate visits, and cultural activities, among other options, into their courses. Because Lyon is a center of gastronomy, history, tourism, and commerce, CEFAM is in a prime location to build an itinerary for a wide range of experiences.
CEFAM collaborates with universities and other groups, working within your budget and timeframe to put together an effective, personalized experience. For the Faculty-led blended option, the many General Education courses in its curriculum allow CEFAM to cater to diverse academic programs, in addition to its Business-focused curriculum.
Our previous programs
In the past, CEFAM has built customized programs ranging from one weekend to six months, so there is no limitation to what can be developed.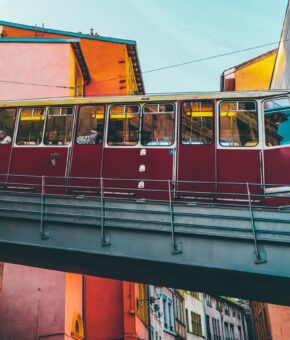 Examples of activities:
French Culture Seminar
Conference with Aderly, Lyon's Agency for Economic Development
Euronews visit
Visits with local entrepreneurs or other local businesses
Professional Development Workshops
Cooking classes
Food tour of Les Halles de Paul Bocuse and other cultural visits
Gallo-Roman Museum and other Historic site visits
Day trips such as Marseille, Burgundy, or Annecy
"We felt so at ease knowing what capable hands we were in from the moment we stepped off the plane to the moment we left.  The program you set up for us was informative, entertaining, educational, delicious and fun – a difficult balance to strike! Our students left the city with valuable insights of the…

Lire la suite

"I had the most amazing experience in Lyon studying with CEFAM. The professors were very knowledgeable in their fields and I learned a lot in just 7 weeks. The CEFAM faculty were very welcoming and helped ease the transition into a new culture. The knowledge I learned both in and out of the classroom is…

Lire la suite

"The CEFAM team did a wonderful job and our time there was well structured.  I appreciate all of the insight that we gained about Lyon."

Lire la suite